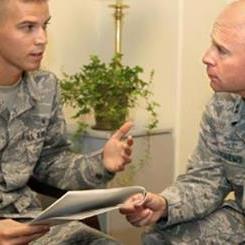 By Michael Ian Rothenberg, PhD, LCSW
Introduction
Dr. Michael Ian Rothenberg, LCSW holds a faculty appointment at the University of Central Florida School of Social Work where he teaches courses in Human Sexuality and Child Abuse Treatment and Prevention and is the Founder and Clinical Director of the Center for Counseling and Sexual Health of Winter Park (Orlando), Florida where he provides counseling and therapy for straight, LGBT, gay, lesbian, bisexual and transgender adults, children and adolescents and specialized treatment for sexual addiction, pornography addiction, hypersexual behaviors and male survivors of childhood sexual abuse. Dr. Rothenberg has served as a keynote speaker, conference presenter, guest lecturer and panel participant at venues including Yale University, Peking University (Beijing, China) and The German Society for Social-Scientific Sexuality Research (Munich, Germany).
---
Q. Dr. Rothenberg, you were recently invited to provide training for the U.S. National Guard on working with LGBT services members since the repeal of the military's "Don't Ask, Don't Tell policy. Can you give us some background on this project and how it came about?
I was asked, as a specialist in human sexuality and sexual behavior, to present at the U.S. National Guard Psychological Health Services National Professional Development Conference, on "Lesbian, Gay, Bisexual and Transgender Service Members, Coming Out and Military Transitions since the Repeal of Don't Ask, Don't Tell" (DADT).
I was fortunate to have been afforded the opportunity to provide this specialized training to mental health practitioners who traveled from all across the United States, Puerto Rico and the U.S. Virgin Islands and who work, regularly, with LGBT service members and their families. Since the repeal of DADT, counseling and therapy for LGBT service members, related to challenges in the coming out process, has been, rightfully, recognized as an area of significance and importance.
As a clinical sexologist, I was heartened to participate in this training as, even as recently as one year ago, a presentation dedicated to the needs of LGBT service members would, likely, not have ever been offered. It is very encouraging to stand upon the precipice of change and, both, participate in and bear witness to important societal transformation.
Q. What points did you stress most in your training sessions?
We talked a great deal about the coming out process, itself, which I defined as understanding, accepting and valuing one's sexuality and then, subsequently, sharing that knowledge and understanding of oneself with others. It was very important to help the attending mental health practitioners to observe that there is, actually, no right or wrong way to come out and the coming out process is, in fact, quite different for each LGBT individual.
When talking about the coming out process, I find it's, sometimes, helpful to think about coming out in three different ways; firstly, coming out to oneself, then coming out to other LGBT people and establishing a support system and, then, coming out to straight people.
Q. What types of questions did the audience ask?
The audience was, mostly, concerned with helping LGBT service members and their families to find the appropriate assistance and support. As many practitioners do not have extensive experience in working with LGBT specific issues and the various challenges related to the coming out process, it's important to help the practitioners understand basic needs and identify where to obtain assistance and support for, both, themselves and for their clients.
We also talked about the very harmful practice known as reparative therapy. I expressed that it was vitally important to let clients know, in no uncertain terms, that reparative therapy is never an option in working with LGBT clients. In fact, I have the following statement prominently featured on my own website "Dr. Rothenberg does not support the practice of reparative therapy and will not provide referrals to mental health practitioners and medical professionals who do support this harmful practice". It is so very important that we, as social workers, and as mental health practitioners, create a safe environment and strive to do no harm to those clients who actively seek our help and support.
I was very glad to see that so many mental health practitioners had a real and genuine interest in attending this training and learning more about the needs of LGBT service members and the lesbian, gay, bisexual and transgender, family members whom they also serve.
Q. What would be your advice to an LGBT service person regarding being openly gay versus secretly gay?
"Don't Ask, Don't Tell" was in effect from 1993 until 2011 and was the official policy that prohibited the United States Military from harassing or discriminating against closeted gay, lesbian and bisexual service members but, at the same time, barred openly gay, lesbian and bisexual service members from serving at all. As such, it bred, in the U.S. Military, an environment of secrecy designed to keep individuals in the closet. Now that the policy has been repealed, there is an expectation, among some, that everyone is free to, and should, come out.
Although the policy has been repealed it is important to note that there is still no protection in the military against discrimination based on sexual orientation and there, still, exists unequal treatment of LGBT service members. I would suggest to LGBT Service members that it's important to proceed in the manner that feels most right to them, taking careful time to explore and negotiate all options, as coming out is a very personal decision and there, truly, is no right or wrong way for an individual to come out.
To find a social worker in your area, please click here.