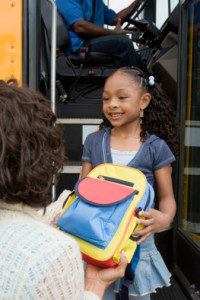 By Gina Sangster Hayman, LICSW
Introduction
Ms. Gina Sangster Hayman, LICSW, is a 1986 graduate of the National Catholic School of Social Service. For eleven years she worked as a psychotherapist and counselor in Northern Virginia. Since 1999 she has been employed with DC Child and Family Services in the foster and adoption training unit, currently as a supervisor. Ms. Sangster Hayman is a participant in the New Directions writing program with the Washington Psychoanalytic Center.
Ms. Sangster Hayman is a Washington, DC native, divorced parent of three children ages 25, 21and 12. In addition, to her social work credentials, she earned a MFA in creative writing from Columbia University.
Q. Are there any legal restrictions or other prohibitions against interracial adoption?
The 1994 Multi-Ethnic Placement Act (MEPA) ". . . prohibits the delay or denial of any adoption or placement in foster care due to the race, color, or national origin of the child or of the foster or adoptive parents and requires states to provide for diligent recruitment of potential foster and adoptive families who reflect the ethnic and racial diversity of children for whom homes are need."
As amended in 1996, MEPA further ". . . affirms the prohibition against delaying or denying the placement of a child for adoption or foster care on the basis of race, color or national origin of the foster or adoptive parents or of the child involved."
Broken down into plain English, the point is that we in the child welfare system cannot keep a child in foster care while we search for the ideal racial or ethnic match, but we also have to work hard to find families who want to adopt same race children. After the original act had been in place for a couple of years, professionals in the field realized the language was not strong enough in favor of casting a wide net to find adoptive homes for children in need. Thus, the amendment was enacted into law.
The ideal child welfare workers may espouse — of finding families who most closely match the background of the waiting children — is far from the reality, at least here in Washington, DC. Of course, African American families foster and adopt African American children but there are still more children, particularly hard to place adolescents with multiple special needs, than there are families.
Q. What's the prevailing opinion of social workers in the field of foster care and adoption?
Social workers in general do not recommend keeping a child in foster care or a group home rather than placing him or her in an adoptive family of a different race. However, in 1972, the National Association of Black Social Workers (NABSW) ". . . announced that it was opposed to adoptions that place black children into white families. Their position stands today. Trans-racial adoptions, they argue, "are harmful to black heritage."
Prior to the enactment of MEPA, by 1987, ". . . thirty-five states had established policies against cross-racial adoption."  Some social workers would argue that abuse, neglect, and abandonment are harmful to any child and that finding a loving, permanent family for all children must be their primary mission.
Unlike NASBW's stand against trans-racial adoption, the Child and Family Services Agency, Washington, DC's public child welfare agency maintains an open-door policy. During orientation sessions held twice per month for prospective foster, adoptive and kinship applicants, a non-discrimination statement is made regarding race, religion, national origin, sexual orientation, education and marital status.
Tensions remain among social workers from all walks of life, from those whose personal religious beliefs make it difficult for them to engage with gay, lesbian and multi-racial families to those who champion the cause of diversity in all forms. There are private adoption agencies that will work only with married couples; others that are known for outreach to gay and lesbian families and for placing children trans-racially. Having worked with foster and adoptive families for the past eight years, I have learned that that many social workers struggle with these dilemmas and that no one can plot a clear path that guarantees success.
3. What advice can social workers give to individuals and families who are considering trans-racial adoption?

Two words: research and education. Such research and education must include the vast storehouse of information online, on bookstore and library shelves stocked with publications about trans-racial adoption as well as a fearless examination of self and of one's immediate and extended families and the surrounding community. Doing these things is the only way to avoid some of the pitfalls and be prepared for challenges ahead.
Recently, a single, white Jewish female discussed her concerns with me about the prospects of trans-racial adoption. She asked insightful questions about race, religion and the community in which she lives. Self-exploration is an excellent harbinger of future success, whatever the ultimate decision may be.
Of course, we all need a lot of love to nurture, educate and provide for our children whether they come to us biologically or through foster care and adoptions. But love may not be enough, especially when traversing the complicated path that brings different races together in one family. We need knowledge — of history, hair care, food, faith, and family customs (to name a few areas) where differences emerge. Most of all, we, social workers, adoptive parents, and adoptees, need the belief in possibility, that the new path we are carving out will lead to a better place and that the rocky terrain we have to cross is well worth the reward.
My twelve-year-old son has two friends who were adopted out of foster care; one calls his aunt "mom" and the other has two Dads that he refers to as his "parents." This may not solve all of their problems in life, but it is a good start.

###